Vortec 8100, come apart at aprox 4800 rpm, in drive WOT, may of ran a few seconds before I hit Neutral and turned off the key.
Seems I'll be able to use the block again. I am going to have to have a sleeve in #6 bore for sure, maybe #5. I am going to check the other bores and check for out of round, maybe go .030, if they are all good, sleeve #5 and #6 and stay standard bore.
Removed the Intake to find aluminum pieces in the intake manifold. I can hear chunks inside the intake when I turn it upside down and so.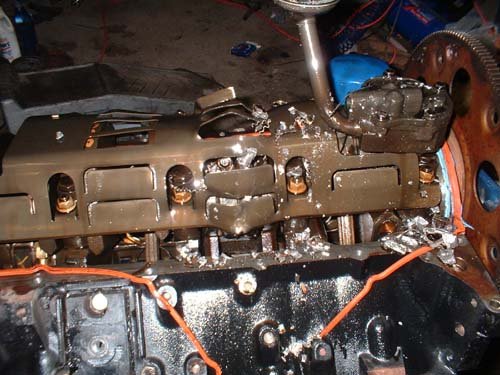 I turned the engine over and removed the oil pan, this is what I found.
Going to need a new oil pan!
One rod bent, another broken off. The piston that was on the bent rod (#6 bore) was the one that seemed to explode. I found the other piston from the broken rod still in the #5 bore with the other end of the rod attached, and a 2 inch section of rod missing from the engine. Out the oil pan I guess.
Looking down #5 bore.