This page goes over details for programming the Engine Control Module (ECM) when installing a Jasper Engine with AFM/DOD deleted. Custom ECM Programming is required to remove the AFM/DOD command from the ECM, as well as the diagnostic codes related to the four control solenoids. If you do not have the ECM programmed and install the Jasper Engine with AFM/DOD components removed, the vehicle will set electrical fault codes P3401, P3425, P3441, and P3449 for those solenoids, and the ECM will shut off the injectors for those related cylinders. See below for important information regarding removal of the ECM, shipping, and payment info, as well as turn around time. Please make payment using BuyNow button below for the quickest turn around time. Just send the ECM only, no brackets, TCM is not needed.
ECM LOCATION UNDER HOOD I only need the ECM, unplug it, and remove from bracket. I DO NOT need the TCM if present.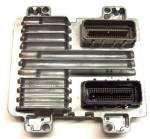 e38 ECM, used 07-14 trucks/suv
E67 ECM used 2007+ envoy, trailblazer, saab 97x, rainier, impala ss, and others
AFM/DOD deleted engine WILL NOT have a the VLOM connector. Insulate the end of the plug, and zip tie away so it cannot rub on anything.
PREVENT DAMAGE TO YOUR ECM WHEN REMOVING CONNECTORS PLEASE VIEW THIS DOCUMENT. PDF FILE. How to properly clean and remove E38/E67 ECM Harness Connectors
Please be sure to write on the outside of the box with black marker in big letters, on a few sides "AFM" and ship it to me. UPS, FedEx, USPS are all fine. ECMs will be programmed and shipped back out within 1 business day. Be sure name, USPS Shipping Address, phone number and payment is included inside the box (Business Check or Money Order made out to LT1Swap.Com), Or you can use the BuyNow button below prior to me receiving the ECM. If I have to call and contact you for payment, that can delay turn around time. You are responsible for shipping the ECM to me. RETURN shipping is included in the payment amount below.
Any questions on this call me, 417-257-0014 DO NOT SEND ECM BRACKET, ECM ONLY, REMOVE FROM THE BRACKET
Select RETURN Shipping Option
Ship to:
BRENDAN PATTEN
ATTN: JASPER AFM
7227 PRIVATE ROAD 1830
WEST PLAINS, MO 65775